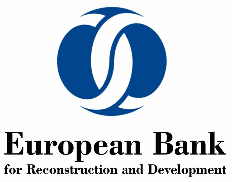 EBRD - European Bank for Reconstruction and Development (Ukraine)
Details
Other offices:
Czech Republic, Latvia, UK, Turkey, Russia, Tunisia, Morocco, Lebanon, Jordan, Egypt, Uzbekistan, Turkmenistan, Tajikistan, Mongolia, Kyrgyzstan, Kazakhstan, Georgia, Belarus, Azerbaijan, Armenia, Slovenia, Slovakia, Poland, Lithuania, Croatia, Serbia, Romania, Kosovo, Greece, Cyprus, Bulgaria, Bosnia and Herzegovina, Albania, Montenegro, Moldova, Hungary, North Macedonia
Address:
46-46A Antonovycha Str., Kiev, 03150
E-mail(s):
kiev@kev.ebrd.com
Contact person:
Jonathan Charles, Managing Director of EBRD
Sectors:
Poverty Reduction
Types:
Financial Institution
Description
The EBRD provides a comprehensive support package for Ukraine to assist its stabilisation and the anchoring of its reforms.
We also focus on strengthening energy efficiency and energy security, unlocking its agricultural and industrial potential, providing quality infrastructure and strengthening the financial sector. As administrator of, and contributor to, the Chernobyl Shelter Fund we are helping Ukraine transform the site of the 1986 accident.
Circumstantial eligible countries