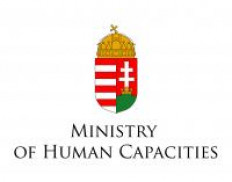 Ministry of Human Capacities of Hungary
Details
Address:
1054 Budapest, Akadémia u. 3.
E-mail(s):
ugyfelszolgalat@emmi.gov.hu
Awards in:
Austria, Croatia, Czech Republic, Denmark, Finland, France, Germany, Hungary, Ireland, Italy, Latvia, Lithuania, Malta, Netherlands, Poland, Portugal, Romania, Slovakia, Slovenia, Spain, Sweden, UK, Iceland, Moldova, Norway, Serbia
Sectors:
Education, Health, Labour Market & Employment
Description
The Ministry of Human Capacities aims to bring about the conditions for enhancing quality of life through the creation of a reliable and efficient system of welfare provision, a healthcare system which takes into account the needs of both patients and healthcare professionals, and the development of effective schoolprograms.
Circumstantial eligible countries