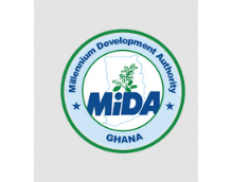 Millennium Development Authority (MCC Ghana)
Details
Address:
4th Floor, Heritage Tower, 6th Avenue, Ambassadorial Enclave, Ridge West, Accra.
E-mail(s):
procurement@mida.gov.gh
Contact person:
Procurement
Sectors:
Poverty Reduction
Description
The Millennium Development Authority (MiDA) was established by an Act of Parliament (Act 702, 709 & 897 as amended). The objectives of the Authority are:
To oversee, manage and implement the Programmes under the Millennium Challenge Account for poverty reduction through economic growth as set out in each agreement between the Government of Ghana and the Millennium Challenge Corporation acting for and on behalf of the Government of the United States of America and for any other national development programme of similar nature funded by the Government of Ghana, a Development Partner or both and to provide for related matters.
Circumstantial eligible countries