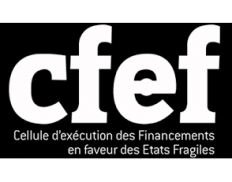 Finance Execution Facility for Fragile States, Ministry of Finance (DRC) / Cellule d'Exécution des Financements en faveur des Etats Fragiles, Ministere Des Finance
Details
Sectors:
Macro-Econ. & Public Finance, Micro-finance
Description
The Fragile States Finance Implementation Unit (CFEF), a structure of the Ministry of Finance, is the unit responsible for coordinating the projects at its disposal and, therefore, responsible for overall coordination, monitoring -evaluation, and administrative and fiduciary aspects. The CFEF has in its portfolio the management of the Western Growth Pole Development Project (PDPC), the Financial Infrastructures and Markets Development Project (PDIFM), the Human Development Systems Reinforcement Project (PRSDHU) and the Project Support for the Mobilization of Internal Resources and the Modernization of Public Finances (PAMRIM-FP). These projects are financed by the African Development Bank (AfDB) and by the World Bank for a total of US $ 216 million.
With the AfDB, the CFEF is implementing the Internal Resources Mobilization Support and Modernization of Public Finance Project, PAMRIM-FP, for USD 20 million financing. The overall objective of this project is to contribute to the increased mobilization of internal resources and the strengthening of accountability. Its specific objective is, on the one hand, to continue the implementation of fiscal reforms initiated by the Government and, on the other hand, to consolidate the achievements of the interventions of this donor.
The PAMRIM-FP is structured around the three components, notably (i) the consolidation of internal resource mobilization capacities by capacity building of the General Directorate of Taxes (DGI) and the General Directorate of Administrative and State Revenue ( DGRAD) for increased mobilization of internal resources, (ii) the consolidation of transparency and accountability through the consolidation of the capacities of the Directorate General of the General Accountability (DRGC) and the Court of Auditors and ( iii) Project management and coordination. PAMRIM-FP is implemented by the Ministry of Finance in Kinshasa, for a period of 4 years.
Circumstantial eligible countries
By Tender Sectors and Organization Types
By Grant Sectors and Organization Types