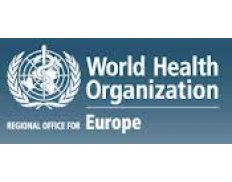 World Health Organization (Italy) - European Office for Investment for Health & Development
Details
Other offices:
Serbia, Kyrgyzstan, Cote d'Ivoire, Armenia, Lesotho, Eritrea, Tanzania, Gabon, USA, Senegal, Ghana, Mozambique, Zambia, North Korea, Eswatini (Swaziland), Libya, Moldova, Oman, Cameroon, Burkina Faso, Timor-Leste, Uganda, UAE, Lebanon, Zimbabwe, Czech Republic, Mali, Hungary, Syria, Spain, Vanuatu, Congo, Belarus, Somalia, Marshall Islands, South Africa, Madagascar, Mauritania, Samoa, Palestine / West Bank & Gaza, Solomon Islands, France, Tajikistan, Dominican Republic, Indonesia, Kiribati, Mauritius, Greece, Bhutan, Sri Lanka, Thailand, Maldives, Nepal, Rwanda, Japan, Turkey, Kazakhstan, Guinea, Denmark, Bolivia, Burundi, Sierra Leone, Iran, Yemen, Malaysia, Ukraine, Turkmenistan, Uzbekistan, Myanmar, China, Jordan, Bangladesh, Guatemala, Fiji, Papua New Guinea, Niger, Egypt, Egypt, Morocco, Laos, Kenya, Cambodia, Sudan, Nigeria, Ethiopia, Dem. Rep. Congo, Iraq, Afghanistan, India, Denmark, Switzerland, Chad, Congo, South Sudan, Australia, India, Pakistan, Liberia, Benin, Philippines, Belgium, Australia, Austria
Address:
C/O Ospedale S. Giovanni e Paolo Corridoio San Domenico 6777 Castello I-30122 Venice, Italy
E-mail(s):
info@ihd.euro.who.int, whovenice@who.int
Awards in:
Africa, Latin America and the Caribbean, Asia, EU 27, Oceania, Europe Non EU 27, Northern America, Finland
Sectors:
Finance & Accounting, Health, Humanitarian Aid & Emergency, Monitoring & Evaluation
Description
The Venice Office is the centre of excellence of the WHO Regional Office for Europe in the thematic areas of social and economic determinants of health, health equity and investment for health in the context of the 2030 Agenda for Sustainable Development. It also coordinates the WHO European Regions for Health Network and the Small Countries Initiative.
It aims to generate and disseminate cutting-edge knowledge and to assist the Member States of the WHO European Region by building strong partnerships and networks with governments, public and private sector, academia and think tanks, and a broad range of civil society stakeholders. The Office was established in 2003 through a Memorandum of Agreement between the Government of Italy, represented by the national Ministry of Health and the Veneto Region, and WHO Regional Office for Europe.
Circumstantial eligible countries
By Tender Sectors and Organization Types
By Grant Sectors and Organization Types