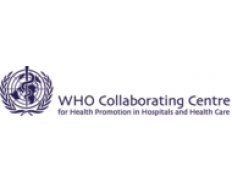 WHO Collaborating Centre for Health Promotion in Hospitals and Health Care
Details
Other offices:
Serbia, Kyrgyzstan, Cote d'Ivoire, Armenia, Lesotho, Eritrea, Tanzania, Gabon, USA, Senegal, Ghana, Mozambique, Zambia, North Korea, Eswatini (Swaziland), Libya, Moldova, Oman, Cameroon, Burkina Faso, Timor-Leste, Uganda, UAE, Lebanon, Zimbabwe, Czech Republic, Mali, Hungary, Syria, Spain, Vanuatu, Congo, Belarus, Somalia, Marshall Islands, South Africa, Madagascar, Mauritania, Samoa, Palestine / West Bank & Gaza, Solomon Islands, France, Tajikistan, Dominican Republic, Indonesia, Kiribati, Mauritius, Greece, Bhutan, Sri Lanka, Thailand, Maldives, Nepal, Rwanda, Japan, Turkey, Kazakhstan, Guinea, Denmark, Bolivia, Burundi, Sierra Leone, Iran, Yemen, Malaysia, Ukraine, Turkmenistan, Uzbekistan, Myanmar, China, Jordan, Bangladesh, Guatemala, Fiji, Papua New Guinea, Niger, Egypt, Egypt, Morocco, Laos, Kenya, Cambodia, Sudan, Nigeria, Ethiopia, Dem. Rep. Congo, Iraq, Afghanistan, India, Denmark, Switzerland, Chad, Congo, South Sudan, Australia, India, Pakistan, Liberia, Benin, Philippines, Belgium, Australia, Italy
Address:
Untere Donaustraße 47, 1020 Vienna, Austria
E-mail(s):
vienna.who-cc@hphconferences.org
Contact person:
Managing Director
Awards in:
EU 27, Europe Non EU 27
Sectors:
Health, Science & Innovation
Description
The Ludwig Boltzmann Institute Health Promotion Research (LBIHPR), former Ludwig Boltzmann Institute for the Sociology of Health and Medicine (LBISHM) in Vienna, Austria has a WHO Collaborating Centre for Health Promotion in Hospitals and Health Care since 1992. From 1990-2001, the institute functioned as Co-ordinating Centre for the WHO Network of Health Promoting Hospitals (HPH). Since 2001, the WHO-Collaborating Centre continues to support some of the co-ordinating functions for the network (editing of the International HPH Newsletter, supporting the preparation of the annual international HPH conferences), and provides scientific support by further developing concepts and the knowledge base for health promotion in hospitals and other sectors of health care.
Circumstantial eligible countries
By Tender Sectors and Organization Types
By Grant Sectors and Organization Types