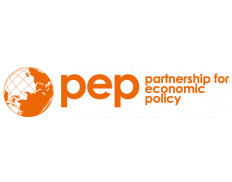 Member
PEP - Partnership for Economic Policy
Member
General
Country strategy papers
•
0
Details
Address:
Duduville Campus, Kasarani P.O. Box 30772-00100 Nairobi, KENYA 00621
E-mail(s):
info@pep-net.org, pep-nairobi@pep-net.org
Contact person:
Peter Nderitu, Senior Programme Manager
Sectors:
Inst. Devt. & Cap. building, Monitoring & Evaluation, Research
Description
The Partnership for Economic Policy (PEP) is an international non-profit organization that links researchers globally to enhance local capacity for policy analysis in developing countries.
PEP's unique research support program empowers local experts to achieve the highest international standards of scientific quality, while building productive relationships with decision-makers at home.
The program is combined with a sophisticated web-based Monitoring and Evaluation (M&E) system, which enables PEP to oversee progress and assess impact of supported projects in three key areas: capacity building, research quality, and policy outreach.
Circumstantial eligible countries