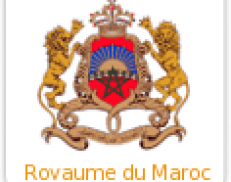 Ministry of Agriculture, Fisheries, Rural Development, Water and Forests (Morocco)
Details
Address:
Avenue Mohamed V, Administrative District Abdellah Chefchaouni Square, BP 607, Rabat
E-mail(s):
a.elbouari@agriculture.gov.ma
Contact person:
Ahmed El Bouari
Phone:
-0537665300,-0537665450,-0537665600
Sectors:
Agriculture, Fisheries & Aquaculture, Livestock (incl. animal/bird production & health)
Description
Ministry of Agriculture and Fisheries - Department of Agriculture - is responsible for developing and implementing the Government policy concerning Agriculture and Rural Development.
To this end, it is in charge of the following assignments, taking into account the attributions of the other government departments:
Define and implement the agricultural fitting out Government Policy;
Examine and develop an intervention strategy to improve and restructure the organization of the agricultural sector;
Take the main arrangements to rationalize the use of water resources for irrigation;
Develop and implement the Government policy to promote the agricultural production and ensure the upgrading of professional agricultural organizations in production chains;
Take all measures to encourage investment in the agricultural sector;
Perform studies and research for the development of agriculture at regional and national levels;
Develop juridical and regulation texts related to agricultural activities;
Collect, analyze and distribute the statistics and agricultural information;
Define and implement the strategy in the higher agricultural education, agronomic research and agricultural technical and vocational training;
Participate in the negotiations related to the free trade in agriculture and the management of the agreements in this field;
Lead all the prospective studies related to research of remunerative outlets for plant and animal production;
Develop and participate in transformation and industry upgrading of plant and animal production studies and projects;
Examine and follow the evolution of national and international markets and prices of agricultural products, as well as production costs and to suggest suitable measures of intervention;
Develop government policy for the plants, animals and food products safety throughout the national territory and at border posts;
Propose and implement the Government policy in the field of rural development, in coordination with the concerned government authorities;
Ensure the Secretariat of the Permanent Interdepartmental Commission of the Rural Spaces and Mountain Areas Development.
Circumstantial eligible countries
By Tender Sectors and Organization Types
By Grant Sectors and Organization Types