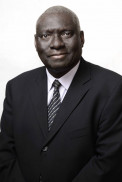 Member
Details
Sectors:
Energy, Environment & NRM
Address:
Plot 176 Parirenyatwa Road, Suite B, Fairview, Lusaka
About
The Director of CEEEZ, Professor Francis Yamba, holds a Master's in Mechnaical Engineering(1972) and a PhD in Combustion gas turbines(1978), has more than 40 years of experience, and has wide experience in project management and research having supervised and participated in over 60 projects in climate related studies (compilation and analysis of national data, GHG inventory studies, climate modelling and adaptation analysis, mitigation options and analysis, and energy related experience (energy, modelling, planning and analysis, combustion and gasification and technologies, energy conservation and efficiency, renewable energy analysis and applications including solar photovoltaics).
He pioneered CDM work in Zambia since its inception and developed PINs and PDDs for various projects. Some of the projects include: bio-methanation in municipalities to produce methane for electricity generation, development of mini hydros for West Lunga and Chilinga, multi-energy efficiency projects in water and sewerage companies, and motorization of main pumping stations for TAZAMA from diesel to electricity. He is also a reviewer of GHG inventories for the UNFCCC in Energy, Industrial processes, Agriculture, Land Use and Forestry, and Waste. He developed the Mitigation Component of Zambia's Nationally Determined Contribution (NDC). He participated in the development of Regional Emission Factor for Southern Africa Power Pool (SAPP) in collaboration with GFA. He has recently been involved in an assignment on Developing Climate Change and Climate Variability Plans in the City of Lusaka supported by the African Development Bank.
Prof Yamba is a Hon Member of the Engineering Institution of Zambia (EIZ) and has received three awards. He is among the (Intergovernmental Panel on Climate Change (IPCC) 700 scientists worldwide who were awarded the 2007 NOBEL PRIZE for Peace together with former USA vice president Al Gore, and the Business Leaders Partnership Forum Award for academia for distinguished achievements that has impact on society, August 2006, and the Order of Distinguished Service; First Division by the President of the Republic of Zambia, 24th October, 2018. Papers relevant to the assignment include: (i) Martin B., Zhou P., Masawi F., Yamba F.D, 2012, Calculation of the Emission Factor of Electricity Systems of the Southern African Power. www.ghg.unfcc.int/methodologies/tools/un-100-07vol2.1.1.pdf, (ii) Yamba F.D., Zhou P. (2006): "Study on Regional Emission Factors for the Power Sector in Southern Africa" Eskom-South Africa, 2006, (iii) Yamba F.D. (2006): "Effects of Climate Change on Hydro Power Potential in Southern Africa". Eskom-South Africa, 2006.