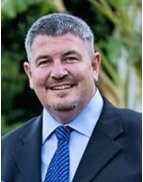 Member
Details
Sectors:
Industry, Commerce & Services, Trade, Tourism, SME & Private Sector, Grants & Grant Schemes, Programme & Resource Management, Marketing
Address:
PO Box 131, La Motte 7691, Western Cape, Republic of South Africa
Cellphone:
+27 741 208608
About
Project/Program Management; Multi-Industry Private Sector Development; Enterprise Capacity Building; Training & Mentoring; Business Enabling Environment Reform; Investment Facilitation & Export Promotion; Public-Private Dialogue.
20+ years' experience in 20+ countries, delivering economic growth and private sector development support and solutions to donor organizations, national and local governments, NGOs, industry associations and businesses.
Experience of a wide range of industries, including agribusiness, tourism, hospitality, light manufacturing, apparel, pharmaceuticals, transport & logistics, IT, cashmere, packaging and construction materials
Chief of Party & Deputy Chief of Party experience focused on project design, work planning, finance & budgeting, M&E, grants management, communications, gender & youth integration, client liaison, recruitment, reporting, and contract and environmental compliance.
Industry growth and job creation through consumer, market and industry research and surveys, development of sector and value chain analyses and strategies, public private dialogue, institutional and association capacity building, workforce development and training, business environment reform, and investment and export promotion.
Enterprise strengthening and growth through enterprise mentoring, use of business development service providers, technology adoption, training and technical assistance in business and financial planning, product development, marketing and branding,
Owner and investor in tourism and real estate ventures in the UK and South Africa, demonstrating ability to bring practical, real life experience to consulting assignments.