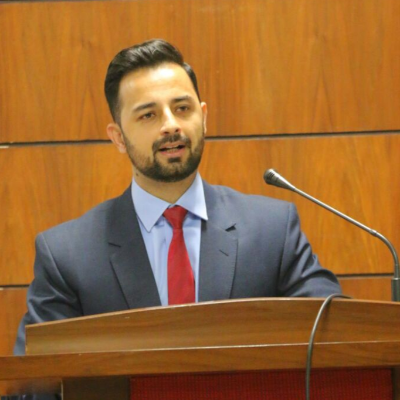 Member
Khayyam Sohail Abbasi
Member
Details
Sectors:
Humanitarian Aid & Emergency, Procurement, Migration, Human Rights, Media and Communications, Programme & Resource Management, Advocacy
Address:
Satellite Town, Rawalpindi, Pakistan
About
Experienced development sector professional with 15 years of diverse experience including Project Management, Inclusive Private Sector Development, Regional Trade Facilitation, Cultural Diplomacy, Human Rights, and various aspects of Migration(Migration management, Migration Policy Development, Human Trafficking etc.).

Ability to lead and manage project teams, forge lasting relationships with a variety of public and private stakeholders, contribute to strategic planning and execution of projects to deliver tangible results.

Demonstrated ability to maintain relationships with donors, subcontractors, and host-country counterparts resourcefulness in problem-solving initiative to acquire new skills.

Superior communication and organizational skills detail-oriented ability to work both independently and as part of a team, leadership, versatility, and integrity.

I have a highly accomplished career with a clear and traceable record of success in the Social and Development Sector working with organizations like the FAO-UN, ICMPD, and The British High Commission. With my post graduation degrees under my belt from recognized Universities (Quaid-e-Azam University and an MS in Project Management from Bahria University, Islamabad.)

As a holder of multiple International project management certifications (PMP, PMI-RMP, PMI-ACP),I am fully capable of running successful Project Management tasks keeping in view the best practices for smooth operations.

I have engaged with most reputed Organizations like The Food and Agriculture Organization of the United Nations (FAO), The British High Commission and the International Centre for Migration Policy Development (ICMPD) , where I was responsible for spearheading Programs Projects implementation and worked closely with the executive management.