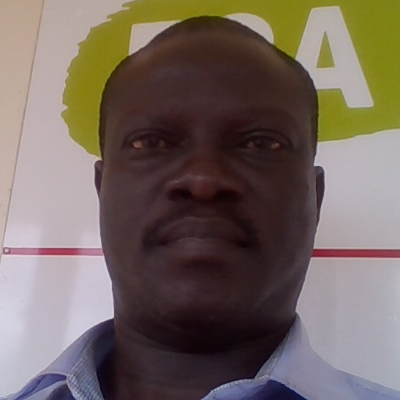 Member
Details
Languages:
Arabic, English, French, Swahili
Highest Degree:
Bachelors
Sectors:
Rural Development, Food Security, Humanitarian Aid & Emergency, Monitoring & Evaluation, SME & Private Sector, Disaster Reduction , Agriculture
Address:
P.O. Box 535 Arua, Uganda
About
A versatile and experienced programme/project Officer, leader and manager with over fifteen years' experience in leveraging deep expertise in MEAL, (Agriculture, livelihoods, Private Sector & Economic Development), Programme Management, Design, Monitoring & Evaluation for Integrated Rural/Community Development Interventions and International Humanitarian Emergency Responses. expertise in agricultural value chains; market systems/ecosystems; private sector development; access to finance; public-private partnerships; workforce development; trade; natural resources management, and economic policy reform, Strategic perspective & leadership skills accomplished professional with expertise in Multi Sector Development and Emergency response contexts. Proven experience designing, formulating, Managing and implementing programs, based upon thorough analysis of community and regional needs. Excellent understanding of Socio-economic/cultural contextual issues affecting communities and Demonstrated expertise in assessing, designing and implementing a range of environmentally sustainable best practices. Deep collaborative experience in regions recovering from conflicts in Uganda. Proven experience working with International NGOs, Donor Agencies and Governments; Respected leader and valued contributor providing an articulate, coherent, engaged and empowering approach to Sustainable Development initiatives. Fluent in English, Kiswahili and Lugbara with basic Luganda, Luo and Arabic (Juba) proficiency. Willing to travel and / or relocate.