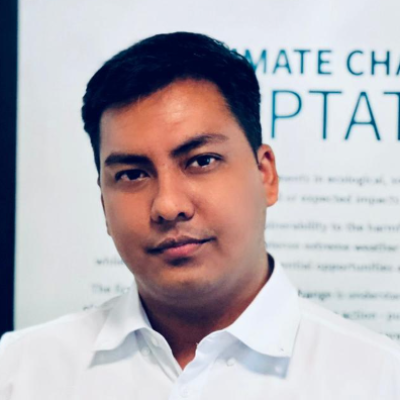 Member
Details
Citizenship:
Trinidad and Tobago
Sectors:
Civil Society & NGOs, Environment & NRM, Banking, Inst. Devt. & Cap. building, Programme & Resource Management, Corporate Social Responsibility, Disaster Reduction
Address:
20 Marcano Avenue, Princes Town, Trinidad, W.I.
About
CAREER PROFILE
Award-winning sustainability and climate change consultant with 9+ years of experience in developing and executing environmental programmes for Caribbean governments and organisations. Critical to the success of projects with a combined value of over US$ 17,000,000 in the areas of environmental science, policy and finance. Leads multidisciplinary teams of 10+ specialists. Advanced qualifications in Environmental Studies, Environmental & Social Risk Assessment and Conflict Resolution.
Core Competencies: Climate Change Mitigation, Adaptation, Resilience & Finance | Environmental & Social Safeguards (ESS) | Disaster Risk Management (DRM) | Green Banking | Policy & Programme Development | Stakeholder Engagement | Biodiversity | Gender | Capacity Building | Multilateral Environmental Agreements.
Past Geographies: Antigua and Barbuda, Barbados, Belize, Dominica, Dominican Republic, Grenada, Guyana, Jamaica, Saint Kitts and Nevis, Saint Lucia, Saint Vincent and the Grenadines, Suriname, Trinidad and Tobago.
Agencies Supported: CCCCC | GCF | GEF | IFRC | UNDP| USAID
CAREER HIGHLIGHTS
Prepared multi-year work plans and programmes to strengthen disaster management and climate resilience in 6+ Red Cross-National Societies and Overseas Territories.
Prepared the 2018 National Environmental Policy, 2021 Climate Change National Adaptation Plan, 2021 Long-term Low Emissions Development Strategy and 2022 Updated National Climate Change Policy for Trinidad and Tobago.
Prepared Action Plans to enable direct access to the Green Climate Fund for organisations in Belize and Trinidad.
Pioneered the sustainable banking Action Plan for the Agricultural Development Bank (ADB) of Trinidad and Tobago.
Co-developed the Green Strategy and Environmental and Social Management System (ESMS) for First Citizens Bank.
Created models to assess and manage the environmental and social risk of 1700+ developments projects.
Co-developed environmental policies, reports and assessments for 8+ Caribbean governments.
1st Project Coordinator for award-winning national recycling programme valued at US$15,000,000.
1st Trinidad and Tobago national to be certified in Environmental and Social Risk Assessment for Financial Institutions.
2021 recipient of the National Youth Award for Excellence in Science and Technology for climate change efforts.