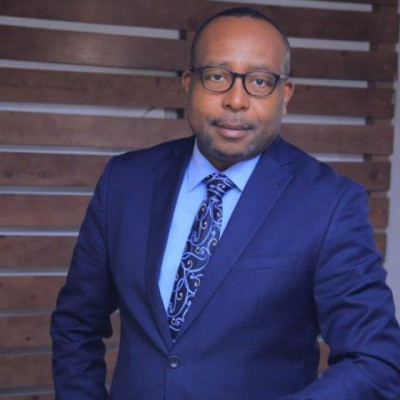 Member
Benjamin Djoudalbaye
Member
Details
Languages:
English, French
Highest Degree:
Medical Doctor
Countries:
Burkina Faso, Chad, Dem. Rep. Congo, Ethiopia, Gabon, Guinea, Liberia, Sierra Leone
Sectors:
Health, Humanitarian Aid & Emergency, Social Development, Research, Advocacy
Address:
Roosevelt Street, PO Box 3243, Addis Ababa, Ethiopia
About
Relevant academic background – Senior health expert MD, MSc. MPH, Pg. Dipl. Infectious Diseases, Head of Policy, Health Diplomacy, and Communication at the Africa Centers for Disease Control and Prevention;
Over 20 years of experience in international health with extensive expertise in the African context, focusing on the design, management, and evaluation of Public Health programs with a focus on HIV/AIDS, Tuberculosis, Malaria, and Ebola Disease prevention, care, and treatment programs, maternal, newborn and child health;
Extensive experience in design, implementation, monitoring, and evaluation of programs and projects in the areas of Health, Population, and Health-related emergency and humanitarian situations;
Strong professional experience in strategic planning, administration, management, and evaluation of policies, programs, and public health, infectious diseases programmes and projects; capacity building and operational research.
More than 8 years of experience in advocacy and awareness-raising with the Member States and other stakeholders on public health policy ownership, coordination, and implementation;
Strong professional experience in emergency preparedness and response, strategic planning, administration, management, and evaluation of public health policies and programs, infectious diseases programmes and projects; capacity building and operational research in Africa;
Good knowledge of coordination mechanisms including multidisciplinary and multi-sectoral teams, partnership development, negotiation skills, advocacy and resource mobilization, multilateral and bilateral cooperation as well as public & private sector and civil society organizations;
Proficient with applicable rules, regulations, and policies associated with international development and non-governmental organizations (NGOs), as well as Donors;
Demonstrated ability through previous experience to liaise with senior government officials, dignitaries, executives of NGOs, the for-profit business community, senior members of the donor community, and other key stakeholders;
Expertise in leading public health emergencies and response, anticipating emerging issues, and developing viable solutions;
Demonstrated track record of building strong working relationships with leaders in the public, private, and non-governmental sectors;
Good communication skills and convincing presenter; proven forward planning and strategic skills; strong public relations skills and network building; good training and facilitation skills;
Successful experience in managing major programs, including proven ability to set a clear vision, lead diverse teams, mentor/inspire others toward the accomplishment of goals, excellent negotiation skills, experience with complex, high profile, or sensitive agreements, and recruiting supporting and leading senior staff;
Experience in working with most commonly used applications and software, including MS-Word, MS-Excel, MS-PowerPoint, Outlook, internet, SAP, etc.;
Able to work under pressure and in demanding and complex environments. Results-oriented with a proven ability to work independently