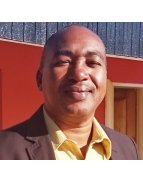 Member
Details
Languages:
English, Swahili
Sectors:
Gender, Poverty Reduction, Social Development, Monitoring & Evaluation, Water & Sanitation, Programme & Resource Management, Research
Address:
P. O. Box 31495, Lusaka, Zambia
Cellphone:
+260-976328685,+260-965170166
About
A research survey specialist, I have more than 15 years' experience in areas of public health, social & market research, financial inclusion, evaluations, assessments, opinion polling, social accountability and project management. I have worked across 15 countries in sub-Saharan Africa. I have excellent skills in teamwork, planning, managing, writing, presentation, negotiation, budgeting and engagement. I hold a Master of Public Health and a Bachelor's degree in Social Sciences. I am based in Lusaka Zambia working for a global research organization.