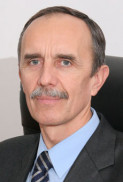 Member
Details
Languages:
English, Polish, Russian, Ukrainian
Sectors:
Health, Procurement, Training, Public Administration, Laboratory & Measurement, Decentralization & Local Development
Address:
47 Stryiska St., Apt. 43., Lviv, Ukraine, 79031
Cellphone:
+380-503700101
About
Expert in improvement of public finance management in post soviet Central Asia countries - development of a system for regular maintenance and repair of equipment of primary health care facilities in Uzbekistan.
Education and training of state and local government officers in Ukraine on social infrastructure development with 11 years experience, particularly concerning health care infrastructure.
Extensive experience in infrastructure development of health care systems in post soviet countries, particularly concerning procurement, technical maintenance and repair of medical and laboratory equipment
Vice-chairman of Public Health Care Committee of Lviv City Council with 4 years experience, responsible for management of health care system of the city.
Responsible for a lot of donor-funded projects in Ukraine, Russia and Uzbekistan, related to installation, maintaining and repairing different types of medical and laboratory equipment.
Expert in maintaining biomedical and laboratory equipment with more then 30 years experience in management of health care systems, particularly in biomedical instrumentation support of medical facilities.
Dealing with the problems related to health technology: definition of the needs of medical facilities in equipment, procurement, installation, operation, maintenance, repairing of medical and laboratory equipment, complete with spare parts, expendable materials, medical waste management, and also training of medical personal and clinical engineers for servicing of medical and laboratory equipment.