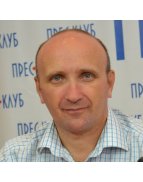 Member
Details
Languages:
English, Russian, Ukrainian
Sectors:
Civil Society & NGOs, Monitoring & Evaluation, Public Administration, Grants & Grant Schemes, Programme & Resource Management, Decentralization & Local Development, Advocacy
Cellphone:
+380-674047177
About
General professional experience
31 years of general experience, of which he spent 26 years working with and for public institutions and civil society stakeholders, 5 years working as the civil servant.
I have a well-developed expertise in management and team coordination from working as a team leader for 18 years in various projects focused on citizen engagement and participation at the national, local level, public administration, local self-government government, capacity building.
I have professional experience of providing capacity building to public actors from being a qualified expert, evaluator, trainer of trainers and facilitator/moderator of seminars.
I have direct experiences in providing technical guidance and support in designing, implementing and M&E of programs, projects.
Areas of expertise: Public service since 2017, Policy Analysis, Policy Evaluation since 2002. Organization development and program evaluation consultant since 2007. Experienced trainer and facilitator since 1994. Designed and conducted over 20 evaluations of various development projects and programs in the areas of small business development, children and youth, human rights, governance and public administration, regional and urban strategic planning, elections, democratic development and gender equality dimensions of development institutions, philanthropy and charity foundations, corporate and community philanthropy, training and education, institutional and organization development. Designed and conducted dozens of training for civil society organizations, civil servants and M&E training ranging from beginners to advance programs for evaluation consultants.
Design, implementation and evaluation of large scale civil society projects. Among them design and implementation of the $1,7 mln successful proposal for UNDP Rapid Response to Social and Economic Issues of Internally Displaced People in Ukraine: Economic and Social Recovery of Donbas Region; Sustainable Urban Development Project, 2010-2013, EU-financed.
Experience with programming of development assistance within good governance including specific experience within anti-corruption: good governance and public administration reform expert of Reanimation Package Reform Platform; design, drafting new law "On Civil Service" and new Integrity Code for public servants, law on Public Consultation; conducted training anti-corruption and integrity training program for civil servants and senior civil servants; membership on of Coordination Council of Open Government Initiative implementation in Ukraine since 2014, working group of Ministry of Justice for drafting new secondary law on public monitoring, public consultation, citizen engagement; management of anti-corruption grant program for CSOs.
Technical skills: Project identification, design, implementation, and evaluation. Drafting of law in civil society sphere, public administration, self-government. Extensive experience in institutional and individual capacity building, training and research; program and organizational evaluation, gender analysis, strategic and administrative management of the organization, project report writing, communication with government officials, businesses, donor organizations, and local and international organizations. Specialized experience and methodological/technical knowledge in the followings areas:
EU evaluation criteria
Gender analysis
Logical framework analysis
Transformative Mixed Methods Evaluation
Result-Based Monitoring and Evaluation
Survey design, quantitative and qualitative data collection and analysis