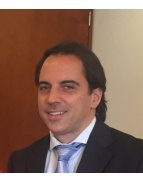 Member
Details
Citizenship:
Argentina, Colombia
Languages:
English, Spanish
Sectors:
Macro-Econ. & Public Finance, Social Development, Monitoring & Evaluation
Address:
Carrera 17 Nº. 10-108. Floor 4. Edificio Don Diego del Pinar – Pereira - Colombia
Cellphone:
+57 316 6234869
About
Economist with an M.Phil. in Economics and Development (University of Cambridge) and Ph.D. cand. in Latin American Economic History (London School of Economics). Fellow of YPF Foundation and the Cambridge Overseas Trust. More than 10 years of experience in planning, monitoring, systematization and evaluation of social investment projects. Consultant of multilateral and international organizations and co-founder of Tinamus (Social Impact Innovation). Previous experience in economic research and analysis of public policy; institutional representation; advocacy and negotiation. Lecturer and media columnist.