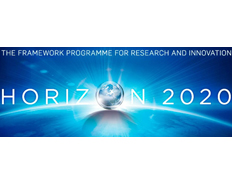 Seamless and safe human - centred robotic applications for novel collaborative workplaces - SHERLOCK
Details
Locations:
Belgium, France, Germany, Greece, Ireland, Italy, Luxembourg, Netherlands, Spain, UK
Sectors:
Information & Communication Technology, Science & Innovation
Date posted:
Jun 25, 2020
Description
Programme: H2020-EU.2.1.5.1. - Technologies for Factories of the Future
Topic: DT-FOF-02-2018 - Effective Industrial Human-Robot Collaboration (RIA)
Call for proposal: H2020-NMBP-FOF-2018
Funding Scheme: RIA - Research and Innovation action
Grant agreement ID: 820689
Objective: Human robot collaboration (HRC) has evolved to address the need for exible production, presenting however drawbacks such as: Inability to cover all applications, Low performance/quality of collaboration and Complexity. SHERLOCK aims to introduce the latest safe robotic technologies in production environments, enhancing them with smart mechatronics and AI based cognition, creating e cient HRC stations that are designed to be safe and guarantee the acceptance/wellbeing of operators. SHERLOCK's objectives are driven by production requirements involving: 1. Soft Robotics Collaborative Production Station: Starting from a human safety basis: - AURA a high payload collaborative manipulator - Smart exoskeletons with adjustable operation - Safe mobile dual arm manipulators 2. Human - centred interaction, collaboration and awareness by developing - Interfaces inspiring trust/familiarity, allowing seamless HR interaction - Methods for assessing user impact of HRC systems - Design principles/standards to maintain operator psychological safety/wellbeing in HRC - Production setups for people with special restrictions exploiting the robot's cognition 3. AI enabled cognition for autonomous HRC applications: enabling robots to understand their environment, reason over it and adapt by: -Multi-level perception for process and environment assessment - Safe workspace monitoring systems - Autonomous planning and coordination of human robot tasks - Interactive learning, adapting to operator and simplifying teaching of new tasks 4. Modules for design and certi cation of Safe HRC applications: - Automated Risk Assessment tools within design/simulation packages - VR/AR tools for validating collaborative operations - reducing certi cation time - Software tools for Formal on-line safety assessment - AR/VR training methods specialized for HRC SHERLOCK will demonstrate its result in 4 sectors: elevators, industrial modules, aeronautics structures and machine tools production.