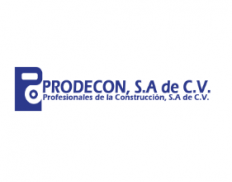 Prodecon - Profesionales de la Construccion, S.a. de C.v.
Details
Legal residence:
Honduras
Funding agencies:
IADB, MCC, WB, UNOPS, CABEI / BCIE
Sectors:
Civil Engineering, Roads & Bridges
About
PROFESSIONALS OF CONSTRUCTION, SA DE CV (PRODECON) founded on June 26, 1979, in the city of San Pedro Sula, Cortés, Honduras, Central America, with the vision of a group of engineering professionals eager to combine their experiences to put them at the service of the economic and social development of the country.
WHAT IS PRODECON?
The company whose corporate name is "PROFESSIONALS OF CONSTRUCTION SA de CV or PRODECON SA de CV" which is its acronym of abbreviation, has for its purpose the construction of all kinds of engineering works, and may also dedicate itself if it suits their interests to any lawful activity that directly or indirectly relates to the nature of this kind of activity.

VIEW
PRODECON will seek to consolidate itself as a leading construction company par excellence, with greater presence and strength in the Central American and Caribbean market by the year 2024, corresponding to the needs of its customers and, through continuous improvement, achieve its quality and growth objectives.

Quality politics
In PRODECON we build road infrastructure works, complying with the requirements of our CLIENTS and the applicable legal requirements, in order to fully satisfy their requirements and expectations. For this, the company has a culture of quality based on the principles of honesty, leadership, development of human resources, solidarity, commitment to continuous improvement and security in our operations. Guaranteeing this quality through the competence of our collaborators, an adequate infrastructure, the continuous improvement of the processes and a financial strength to meet the demands demanded.
MISSION
The mission of PRODECON is to build all types of civil works, satisfying the expectations of our clients through a commitment based on quality, competitive prices and safe deadlines.
Recruitment Overview
No information available