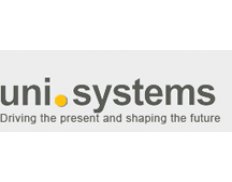 Member
Uni Systems Information Technology Systems Commercial S.M.S.A..
Member
General
Partners/Competitors
•

513
General
Partners/Competitors
•
513
Details
Types:
Consulting Organization
Funding agencies:
EC, EIB, WB, Other, EBA, EIOPA, ESMA, Horizon 2020, CEDEFOP, FRONTEX, OECD, WIPO, BEIS, Horizon Europe
Sectors:
Information & Communication Technology, Inst. Devt. & Cap. building, Justice Reform, Macro-Econ. & Public Finance, Public Administration
About
We, at UniSystems, believe that information technology has the power to reinvent business and contribute to growth and prosperity. In our fast-paced world, technological changes are a constant factor, business agility a must, and the challenge we face is to remain responsive and innovative while being cost efficient.This is precisely what our Company has been doing for half a century. We have helped our clients realize their full business potentials. A challenge achieved with the valuable contribution of our people, their expertise, passion and knowledge.Key to our ongoing success is our commitment to excellence, the development of innovative and agile solutions, our focus on state-of-the art technologies and the adaptation of our strategy to an ever changing global business environment. Our primary goals are to improve the productivity of our clients and provide solutions that will not only benefit their business, but society in general.As we reached our 50-year anniversary, we strongly believe that information technology.