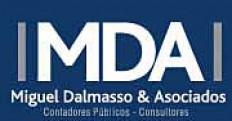 Details
Legal residence:
Argentina
Types:
Consulting Organization
Sectors:
Programme & Resource Management, Research, SME & Private Sector, Training
About
The Firm offers services to a wide range of clients, from small SMEs to large companies, offering them comprehensive services that can include all the areas dealt with here, and also, in the case of larger companies, the possibility of outsourcing activities through the which do not add value to your product and can be delegated to specialist professionals.
This is the case of the Liquidations of Loans or several specific Audits and Suppliers, obtaining the contracting innumerable benefits, thus gaining time, converting certain fixed and global expenses to measurable, controllable and relatively variable, optimizing processes and resources and significantly reducing costs.
All this provided with a structure of flexible and dynamic study according to fit and interact with the need of the client, and a fee policy in accordance with the service provided.