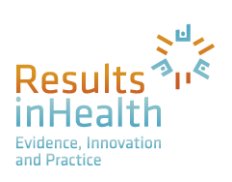 Member
Details
Legal residence:
Netherlands
Types:
Consulting Organization
Funding agencies:
EC, GIZ, UN
Sectors:
Health, Monitoring & Evaluation
About
ResultsinHealth is a woman-owned and managed International development advisory firm, based in the Netherlands. We have two divisions: Procurement and Supply Management (PSM) and the Impact Team. PSM focuses on quality assurance for the pharmaceutical supply chain, while the Impact Team offers services in monitoring and evaluation (M&E), operational research and capacity building.
History
We were founded many years ago by two physicians interested in increasing effective disease prevention and improving access to health care and the overall wellbeing of target populations. As ResultsinHealth grew, we created our M&E division, which we call the Impact Team. The two divisions work to strengthen health systems and accurately monitor and evaluate the progress and results of health and non-health programs.
Expertise
We have a range of in-house expertise in areas such as Pharmaceutical Supply Management, Sexual and Reproductive Health and Rights, Gender and Social Inclusion. Our staff carry out short- and long-term assignments working closely with an extensive pool of highly qualified and trusted associates.
Global Reach
We are active globally: over the last two years our PSM and Impact Teams have worked in more than 50 countries, working for governments, international and local NGOs, and multilateral institutions.
Vision
By 2029, ResultsinHealth's contribution to improving the health and wellbeing of vulnerable populations around the world will be recognized globally.