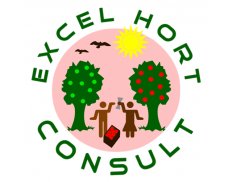 Details
Types:
Consulting Organization
Funding agencies:
DANIDA, FAO
Sectors:
Agriculture, Environment & NRM, Fisheries & Aquaculture, Food Processing & Safety, Food Security, Inst. Devt. & Cap. building, Land & Erosion & Soil, Marketing, Monitoring & Evaluation, Poverty Reduction, Programme & Resource Management, Research, Rural Development, Science & Innovation, SME & Private Sector, Social Development, Training, Youth
About
Excel Hort Consult Ltd is a private Firm started in 1999 and incorporated in 2003 by the registrar of companies. The company is operational in 49 districts of Uganda, with the headquarters in Mbarara and offices in Arua, Bukedea, Kabale, Kampala, Kasese, Mbale and Tororo.
The company provides Agribusiness and Agro Industry value chain development services to local, national, regional and international organizations as well as private sector companies. It offers a wide range of services in Agribusiness trade and investment such as Value Chain Analysis and Development; Strategic Planning and Institutional Development; as well as Business Management services.
Excel Hort Consult is actively participating in implementation of Comprehensive Africa Agriculture Development Programme (CAADP) and an active member of the Pan African Agribusiness & Agro-Industry Consortium (PanAAC) which aims to promote agricultural technology development, dissemination and adoption. EHC represents the private sector on African Union Committee for Aflatoxin Control in Africa (PACA).
Vision
EHCs vision is to be a leading Agribusiness and Development Company generating sustainable income and improved
livelihoods for empowered communities.
Mission
EHC's mission is to contribute to the competitiveness of African agribusiness and Agro-industry in the global market through provision of suitable Agribusiness and development services to development actors and business community.