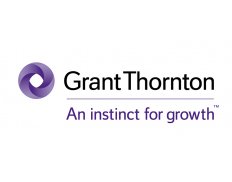 Grant Thornton (EU Services)
Details
Types:
Consulting Organization
Funding agencies:
EC, Other
Sectors:
Audit, Finance & Accounting, Risk Management (incl. insurance), Security, SME & Private Sector
Other offices:
Burkina Faso, Austria, Saudi Arabia, Kosovo, Botswana, Tonga, Sint Maarten, Mongolia, Zambia, Egypt, Lebanon, Panama, Kazakhstan, Belize, UAE, Togo, Azerbaijan, Tunisia, Cameroon, Guinea, Italy, Afghanistan, Tanzania, China, Uganda, Gabon, Mozambique, Singapore, Ireland, Kenya, Malawi, Peru, Mexico, Brazil, Ethiopia, Philippines, New Zealand, Slovakia, Bangladesh, Belarus, Moldova, Albania, Gibraltar, Sweden, Zimbabwe, Algeria, Luxembourg, Honduras, Kyrgyzstan, Romania, Croatia, Czech Republic, Georgia, South Africa, Indonesia, Germany, Spain, Pakistan, Yemen, France, Morocco, Uzbekistan, Uruguay, Tajikistan, India, North Macedonia, USA, Namibia, Cambodia, Senegal, Serbia, UK, Turkey, Greece, Russia, Colombia, Nicaragua, Argentina, Bulgaria, Vietnam, Ukraine, Armenia
About
We are a dynamic and growing organisation providing services in the field of audit, accountancy and tax, with a wide range of specialist services. Understanding clients and anticipating their needs is what we consider our core task. We are a true professional business partner with broad and international knowledge and experience. Irrespective of the complexity of the client's issue, Grant Thornton always provides support at a high level tailored to our clients' expectations
Dynamic organisations know they need to apply both reason and instinct to decision-making. At Grant Thornton Belgium, this is how we advise our clients every day. We combine award-winning technical expertise with the intuition, insight and confidence gained from our extensive sector experience and a deeper understanding of our clients.
Through empowered client service teams, approachable partners and shorter decision-making chains, we provide a wider point of view and operate in a way that's as fast and agile as our clients. The real benefit for dynamic organisations is more meaningful and forward-looking advice that can help to unlock their potential for growth.
Grant Thornton Belgium provides services in the field of audit, tax and advisory with a wide range of specialist services.
Global Strength
Grant Thornton is one of the world's leading organisations of independent assurance, tax and advisory firms. These firms help dynamic organisations unlock their potential for growth by providing meaningful, forward looking advice. Proactive teams, led by approachable partners in these firms, use insights, experience and instinct to understand complex issues for privately owned, publicly listed and public sector clients and help them to find solutions. 50.000 Grant Thornton people, across over 130 countries, are focused on making a difference to clients, colleagues and the communities in which we live and work.