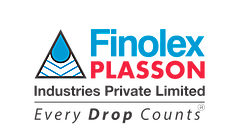 Finolex Plasson Industries Pvt. Ltd. (FPIPL)
Details
Types:
Consulting Organization, Supplier
Funding agencies:
WB, Other
Sectors:
Agriculture, Water & Sanitation
About
FINOLEX PLASSON INDUSTRIES PVT. LTD. (FPIPL) is a Joint Venture between Finolex Group – India (www.finolex.com) and Plasson Ltd. – Israel (www.plasson.com). Established in 1992 and based near Pune, FPIPL, an ISO 9001:2008 company, is today a leader in the field of Micro Irrigation in India.
FPIPL offers a wide range of products and solutions in the field of precise irrigation and intensive agriculture cultivation.
Our solutions include complete tailored Drip and Sprinkler Irrigation Systems and Turn- Key projects for all Agriculture sectors such as Row Crops, Horticulture, Green Houses, Plantations, Orchards, Nurseries and more.
FPIPL's services include Survey, Planning and Design facilities for Drip, Mini & Micro Sprinklers, Foggers, Misters, Fertigation Equipments, HDPE Sprinkler Pipes etc. for various field crops, horticulture crops, plantations, landscape, Greenhouse and Poly-house Irrigation systems, etc.