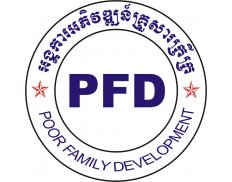 Poor Family Development Organization
Details
Legal residence:
Cambodia
Funding agencies:
WB, Other
About
PFD is the Local Non-Government Organization. working to improve and promote health services for the poor in rural area.
PFD want to see Cambodian society with harmony where all people live with well being, justice, equality, and freedom to engage in social affairs.
PFD collaborates with local authorities, relevant government institutions and civil society organization to educate and raise awareness on social welfare; provide support to the poor to public health services; and contribute in poverty reduction in communities (especially women and children).