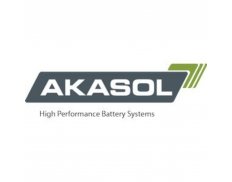 Details
Sectors:
Electrical Engineering, Energy, Vehicles
About
AKASOL AG has more than 25 years of experience with Li-Ion battery systems – in a variety of different applications and under some relatively severe conditions – our customers have already travelled millions of kilometres electrically with AKASOL battery systems. High Performance Battery Systems - the claim briefly and succinctly expresses the quintessence of AKASOL's outstanding know-how. The German company AKASOL, with headquarters in Darmstadt, develops and produces innovative lithium-ion battery systems for the automobile and commercial vehicle industries, as well as for city buses, rail vehicles, and underground mining as well as for ships and special vehicles in harbours. High-performance battery systems – this is the product title chosen by the AKASOL team and is guaranteed for every client thanks to the outstanding expertise of the Darmstadt-based team. They been producing innovative lithium-ion battery systems for over 25 years in a range of sectors, including the car and utility vehicle industry, city/airport buses, railway vehicles, ships, and a range of other specialist vehicles.
From the very beginning, our concept of high performance comprises much more than the "standards" safety, performance, and durability. AKASOL solutions are defined by the remarkable combination of exceptionally high energy and performance density with an extremely compact design, modular structure, and maximum flexibility. Thanks to this technology, AKASOL has advanced to become a global innovator en route towards economically sound electromobility and efficient, environmentally-friendly energy supply.