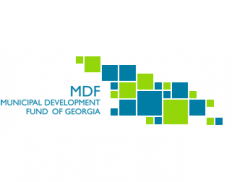 MDF - Municipal Development Fund of Georgia
Details
Address:
3rd Floor, #150 D. Aghmashenebeli Ave., 0112, Tbilisi
E-mail(s):
mdf@mdf.org.ge, procurement@mdf.org.ge
Contact person:
Mr. Juansher Burchuladze, Executive Director
Phone:
(99532) 2437001; 2437002; 2437003; 2437004
Sectors:
Macro-Econ. & Public Finance
Description
The Municipal Development Fund of Georgia was established in 1997. The Fund is cooperating with all large investment banks and financial institutions operating in Georgia. It is coordinated by the Supervisory Board approved by the Government of Georgia and the Ministry of Regional Development and Infrastructure of Georgia.
The Municipal Development Fund of Georgia (hereinafter: the Fund) is a legal entity of public law, the objective of which is to support strengthening institutional and financial capacity of local government units, investing financial resources in local infrastructure and services, improving on sustainable basis the primary economic and social services for the local population (communities), developing renewable energy (midget power plants and geothermal) sources, creating sustainable economic basis for refugees, rehabilitating irrigation and drainage systems, provision of low-interest loans to legal entities and physical persons of Georgia in the framework of the Government Program, Technical Assistance for Foreign and Georgian physical bodies and legal entities for business development in Georgia, liquidation of damage caused to the population and infrastructure during the conflicts in Georgia.
Circumstantial eligible countries