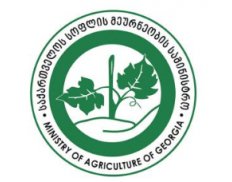 Ministry of Agriculture of Georgia
General
Country strategy papers
•
0
Details
Address:
6, Marshal Gelovani ave, Tbilisi 0159
E-mail(s):
infomoa@moa.gov.ge
Contact person:
Maia Beruashvili, Head of food safety division
Phone:
+ 995(32) 2 47 01 01, + 995(32) 2 37 80 09, (+995
Description
The core function of the Ministry of Agriculture of Georgia is to develop and implement a unified government policy on the development of agricultural sector of Georgia.
Objectives:
Carry out agrarian reforms considering international experience as well as historical and national traditions of the country, support the development of agricultural cooperation; promote processing of primary agricultural and food products; support the use of export potential and strengthen the positions on the international market; collecting / analyzing information about conditions and tendencies of internal and external markets. Promote and organize scientific-consulting services, capacity building and hands-on training courses of agricultural entrepreneurs; registration and organization of pesticides, agrochemicals, testing new animal and/or plant breeds; supporting the accessibility and renewal of agricultural equipment and technologies; forecasting the need of pesticides and agrochemicals and promote their application.
Circumstantial eligible countries