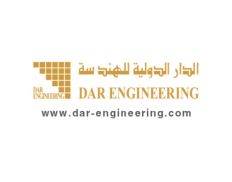 Member
Details
Legal residence:
Saudi Arabia
Types:
Consulting Organization
Sectors:
Architecture, Civil Engineering, Energy
Nr. of employees:
501-1000
About
As a multidisciplinary design and engineering solutions provider, DAR Engineering has established itself as a prominent partner for numerous clients in markets such as:
1. Utilities:
Power Generation
Distribution
Transmission
System Studies
Renewable
Water Projects
2. Architecture:
Healthcare
Education
Hospitality
Housing
Mixed Use and Retail
3. Project Management
4. Construction Management
Our approach to each and every project is through a complex design and construction process that blends the technical expertise, dedication and experience of a passionate team of professionals. Our holistic approach to the projects results in delivering successful design solutions.
With a team close to 1200 engineering and design professionals, we combine our areas of expertise to deliver comprehensive and sustainable design services for our clients through quality, innovation and sustainable solutions.
The full range of design services we offer includes architecture, mechanical, electrical, plumbing, structural and civil design. From concept through delivery, we ensure seamless integration of engineering systems to support and enhance our designs with energy-efficient and cost-effective building systems.