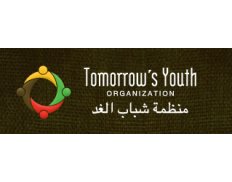 Tomorrow's Youth Organization
Details
Legal residence:
Palestine / West Bank & Gaza
Types:
Consulting Organization
Sectors:
Civil Society & NGOs, Education, Gender, Grants & Grant Schemes, Human Rights, Micro-finance, Monitoring & Evaluation, Social Development, Training, Youth
About
TYO is a point of light for under-privileged children and communities in the Middle East. It represents the best aspects of the American people and international goodwill, contributing, managing, and operating essential services and activities for all members of communities afflicted by conflict, isolation, and poverty.
TYO is an influence for personal and community development throughout the region.
Working in cooperation with the highest quality institutions and organizations, TYO aspires to break ground in non-formal early childhood education and women's empowerment. TYO pursues this objective through innovative programming as well monitoring and research activities to measure impact in communities where it works.