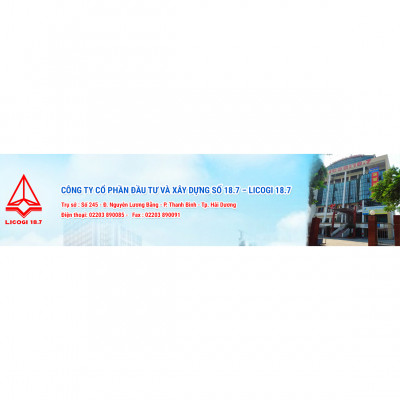 LICOGI 18.7 - Investment and Construction Joint Stock Company No. 18.7 (Công ty cổ phần đầu tư và xây dựng số 18.7)
Details
Sectors:
Electrical Engineering, Industry, Commerce & Services, Information & Communication Technology, Mechanical Engineering, Mining, Roads & Bridges, Water & Sanitation
About
Investment and Construction Joint Stock Company No. 18.7 (LICOGI 18.7)
The predecessor was Construction Enterprise 110, established on May 27, 1980. The company is a joint stock enterprise, independent accounting and operating under the model of association operating in the field of construction such as: Construction of traffic, irrigation, hydroelectric, civil, industrial works, technical infrastructure, rental of construction machinery and equipment, etc.
Main business lines of Investment and Construction Joint Stock Company 18.7:
- Constructing hydroelectric projects, airports, ports, power transmission lines and transformers; Technical infrastructure works in urban areas and industrial zones; Water supply and sanitation works; Foundation works.
- Investment and trading in housing, new urban areas, technical infrastructure of industrial parks, small and medium hydroelectric projects.
- Producing and trading construction materials, equipment, spare parts, construction materials, concrete sewers, commercial concrete; Fabrication and manufacture of mechanical products. Formwork, scaffolding, industrial houses.
- Leasing services, providing technical supplies; Investment consultancy, design consultancy, project supervision consultancy; Repairing, installing machinery and equipment of mechanical products and other shaped structures.
- Testing of construction materials.