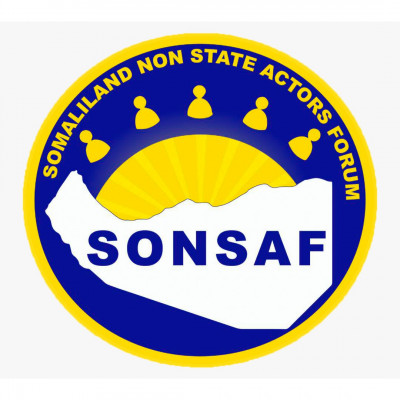 Member
SONSAF - Somaliland Non-State Actors Forum
Member
Details
Legal residence:
Somaliland
Funding agencies:
DANIDA, EC, NORAD
Sectors:
Advocacy, Civil Society & NGOs, Conflict, Democratization, Human Rights, Law, Security, Social Development
About
The Somaliland Non-State Actors Forum (SONSAF) is a not-for-profit and non-governmental organisation (N) that was established in 2005 by various civil society organisations (CSOs), members of the business groups, traditional leaders, professional associations, and religious leaders. SONAF has 67 members drawn from the entities mentioned above. SONSAF is the leading civil society platform mandated to strengthen the voice of Somaliland's Non-State Actors (NSAs), enabling them to have a vibrant space in policy dialogue with a particular focus on peacebuilding and democratisation, security, poverty reduction, human rights, infrastructure, and good governance.
Thematic Areas
SONSAF thematic work areas have developed since the entity's establishment in 2005, taking an approach that is consultative, inclusive, and proactive in implementing programmes. SONSAF focus on the following four areas:
CSOs Coordination – SONSAF, as the CSOs Forum, is mandated to enhance Non-State Actors' (NSAs) voice through better coordination and networking that assists NSAs in possessing a vibrant space in the policy dialogue can influence in formulating policies that address the needs of all citizens.
Peacebuilding & Governance – SONSAF takes part in the peacebuilding processes in the country by mediating between Non-State Actors and the State and any conflicting citizens. In the aspects of good governance, SONSAF warrants that the State follows the rules of law by holding them accountable, and the government is equitable and inclusive towards its citizen.
Democratisation - SONSAF plays a key role in promoting the democratisation process in the country; since 2005, SONSAF has been part of the election stakeholders. The forum is mandated to coordinate and deploy civil society election observers' missions.
Advocacy & Public Dialogue - As a platform, SONSAF promotes the role of civil society in the different sectors in Somaliland. SONSAF organises high-level multi-Stakeholder dialogues to overcome and discuss the citizens' challenges by facilitating and holding political dialogues to bridge any political tensions. Likewise, during economic, social, and political uncertainties, the voices of the civil societies are heard through the release of position papers, press statements and communique after consulting and discussions among CSOs.