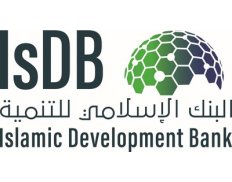 Islamic Development Bank (HQ)
Details
Address:
8111 King Khalid St. AI Nuzlah AI Yamania Dist. Unit No. 1 Jeddah 22332-2444
Contact person:
Dr. Bandar M. H. Hajjar, President
Sectors:
Agriculture, Education, Energy, Finance & Accounting, Health, Water & Sanitation
Nr. of employees:
1001-5000
Types:
Financial Institution
Description
ISDB - Islamic Development Bank - is a multilateral development financing institution located in Jeddah, Saudi Arabia. It was founded in 1973. Headquarters in Jeddah, Saudi Arabia.
It is a medium-small sized donor with about 5-10 new oppurtunities per month.
Afghanistan, Albania, Algeria, Azerbaijan, Bahrain, Bangladesh, Benin, Brunei, Burkina Faso, Cameroon, Chad, Comoros, Cote d'Ivoire, Djibouti, Egypt, Equatorial Guinea, Gabon, Gambia, Guinea, Indonesia, Iran, Iraq, Jordan, Kazakhstan, Kuwait, Kyrgyzstan, Lebanon, Libya, Malaysia, Maldives, Mali, Mauritania, Morocco, Mozambique, Niger, Nigeria, Oman, Pakistan, Palestine / West Bank & Gaza, Qatar, Saudi Arabia, Senegal, Sierra Leone, Somalia, Sudan, Suriname, Syria, Tajikistan, Togo, Tunisia, Turkey, Turkmenistan, UAE, Uganda, Uzbekistan, Yemen
Circumstantial eligible countries
Direct vs. Indirect Management
Top Implementing Agencies
Direct vs. Indirect Management
Top Implementing Agencies
By Tender Sectors and Organization Types
By Grant Sectors and Organization Types