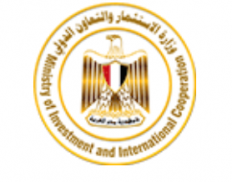 Ministry of Investment and International Cooperation - MIIC of the Arab Republic of Egypt
Details
Address:
8 Adly Street - Downtown - Cairo 3 Salah Salem Street
E-mail(s):
bcis@moic.gov.eg
Sectors:
Macro-Econ. & Public Finance, Trade
Description
The Ministry of Investment and International Cooperation has defined its objectives to achieve its vision of 2030, to become one of the largest 20 economies worldwide:
Infrastructure development: To spur investments, both local and foreign, the Government believes it must provide the necessary infrastructure to support the private sector projects. In this regard, MIIC has focused on energy, road networks and social housing to support industry expansion across the country.
Private sector development: The Government is committed to enhancing the investment environment as part of its broader macroeconomic strategy to prioritize private investment-led growth. To that end, MIIC is engaged in an active and wide-ranging process of legislative and regulatory reforms that will:
Cut red tape: Egypt already jumped 34 places in the World Bank's Doing Business Report last year in light of its efforts to ease starting a business, and the new investment law is expected to further improve administrative processes through an automated one-stop-shop.

Ensure a level playing field: Egypt's Public Private Partnership Law ensures equal treatment of Egyptian and foreign investors alike and is in line with international best practices. Requests for Proposals and all bidding guidelines are posted on the Ministry's website to ensure full inclusion of the private sector.
Enforce contracts: the new Investment Law ensures efficiency and quality of commercial dispute resolution, and Egypt has accelerated its resolution process and added a follow-up committee to demonstrate its commitment to a strong investment environment.
Provide access to funding: MIIC focuses its bilateral relations on supporting SMEs by offering them lines of credit, training and funding for incubators and startups. It supports the Egyptian Financial Supervisory Authority in its new legislations to foster social inclusion and access to finance, such as the newly issued microfinance law, micro-insurance law, and the amended financial leasing and factoring laws.
Natural resource development: Egypt is rich in natural resources. The Golden Triangle in Upper Egypt has one of the world's largest phosphate reserves, and the Sokkary gold mine is predicted to become one of the top 10 largest producers worldwide. It has vast areas of land and is well known for its agricultural heritage. In addition, its weather renders it a primary location for renewable energy production. To that end, MIIC signs funding agreements with its development partners to optimize utilization of its natural resources like: water; wind and solar power. It has also drawn strong incentives in the Investment Law to boost investments in electricity, mining and agriculture sectors
Human resource development: Human resources are one of the strongest assets available in Egypt. MIIC is focused through cooperation with its development partners on training and skills development programs to further avail skilled labor and encourage innovation. Every year, approximately 300,000 Egyptians graduate from university; around 200,000 as trained engineers and 15,000 with European language skills. IT & telecom, energy, O&G, building materials, pharmaceuticals are particularly strong skillsets amongst graduates. By 2030, Egypt aims to be among the top 40 countries in the fields of: innovation; quality of scientific research institutions and retention of innovative talents
Social inclusion: MIIC has established clear incentives for investors choosing lagging regions as their investment destination. Upper Egypt, Al Alamein, Sinai Peninsula and New Valley are among the areas classified as such, and MIIC's objective is to create jobs, assist with vocational training programs and connect these regions with markets through development of ports, railways and road systems. It is negotiating foreign funding agreements with its partners to improve health and education services and is securing funding for social safety nets to balance the adverse impact of the economic reform program on the society's marginalized segments. Improved public services, especially for lagging regions and marginalized communities are a top priority for the coming years. By 2030, Egypt targets to: achieve equitable access to 80 percent of essential health interventions; increase Government spending on health to 5 percent of GDP; reduce the intensity of generating municipal waste and increase the efficiency of waste management including recycling.
Administrative Reform: MIIC is collaborating with other Government institutions to achieve a lean, transparent and efficient Government, and the new Investment Law is proof that Egypt is on the right track in terms of administrative reform. Funding agreements are secured to support administrative reform, and by 2030 ,Egypt aims to become one of the top 30 countries in institutional efficiency and one of the top 40 countries in efficiency of government spending. MIIC is carrying out administrative reforms to improve service delivery to citizens at governorate levels through decentralization. Reform is based on: 1) setting performance improvement measures 2) strengthening decision making at governorate and municipality levels 3) increasing their financial viability and 4) spending behind wages and infrastructure investments.
Circumstantial eligible countries
By Tender Sectors and Organization Types
By Grant Sectors and Organization Types