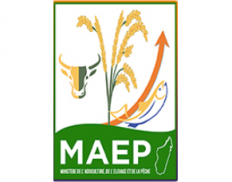 Ministry of Agriculture, Livestock and Fisheries Madagascar / Ministère de l'Agriculture, de l'Elevage et de la Pêche
General
Country strategy papers
•
0
Details
Contact person:
Secretariat
Sectors:
Agriculture, Fisheries & Aquaculture, Livestock (incl. animal/bird production & health)
Description
The Ministry of Agriculture, Livestock, and Fisheries of Madagascar is responsible for developing, executing and coordinating the necessary agriculture, livestock and fisheries strategies.
The Ministry's goal is for Madagascar to become the breadbasket of the Indian Ocean and its sub-regions and it is therefore heavily involved in the development of sustainably increasing productivity and developing agribusiness-based competitive production systems to meet the needs of national, regional and international markets.
It is also involved in expanding production areas and developing standardized operating infrastructures, increasing agricultural producers' and fishermen's incomes and providing decent jobs for youth.
Circumstantial eligible countries