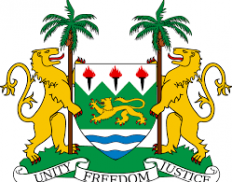 Ministry of Trade and Industry of Sierra Leone
Details
Address:
6th Floor Youyi Building,Brookfields, Freetow
E-mail(s):
info@trade.gov.sl
Sectors:
Industry, Commerce & Services, Trade
Description
The Ministry has the sole mandate of developing policies and programmes to stimulate local and export trade as well as to enhance private sector investment, industrial and economic growth.
The Ministry envisages a private sector-led economy, which will ensure that the socio-economic needs of the citizens are met through private sector development, job and wealth creation.
The core functions of the Ministry of Trade and Industry includes the following;
Coordinating and spearheading the implementation of the National Trade
Policy.

Provide policy guidance and supervision to its agencies/departments for efficient and effective service delivery to the citizens of the Sierra Leone.

Coordinate the development of Trade Support Programme that reflects the policy objectives of the Government.

Coordinate the formulation of Annual Implementation Plans for the Trade Support Programme, reflecting appropriate sequencing of implementation of Programmes and ensuring that Trade Policy remains an integrl component of national development plans.

Liaise with other Ministries, Departments and Agencies of Government to provide an enabling environment for the Private Sector to thrive.
Circumstantial eligible countries