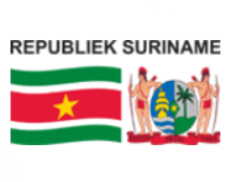 Ministry of Finance Suriname/ Ministerie van Financiën (Suriname)
General
Country strategy papers
•
0
Details
E-mail(s):
secmin@finance.gov.sr
Contact person:
Secretary
Phone:
+597-412009,+597-420211
Sectors:
Macro-Econ. & Public Finance, Micro-finance
Description
The Ministry of Finance monitors the revenues and expenditures of the state and consists of two directorates, namely the Finance Directorate which is responsible for the payment of the expenditures of the State and the Tax Directorate where a large part of the revenues of the State (Government ) enter.
The Ministry of Finance is therefore responsible for managing government revenue and paying government expenditure. Hereby it is ensured that the available financial resources of the Surinamese state are spent responsibly and efficiently by the state apparatus and the government, which consists of the President, the vice-president and 16 ministers in order to conduct policy. The Ministry is responsible for the general financial, monetary and fiscal policy, as well as for the investment policy, which, although co-ordinated with the relevant ministries, is set out. Finance takes care of the design and control of the financial administration of the state. Therefore, compliance with financial rules and legislation is essential to implement a predictable, transparent and consistent economic policy.
SUBJECTS
The Ministry of Finance deals with, among other things, the following subjects:
State finances as an instrument for socio-economic development
Budget policy
Modern Treasury function
Income policy
Treasury paper
Development Financing and Planning
Medium-term State Finance Framework (eng: MTFF)
Suriname Savings and Stabilization Fund (eng: SWF)
State Management and Supervision Act (eng: PFM law)
Portable debt policy (eng: DSA)
State-owned and (majority) shares (eng: SOEs)
Public-Private Partnership (eng: PPP)
Grants
Fiscal Transparency
Suriname Extractive Industries Transparency Initiative (SEITI)
Tax incentives
Circumstantial eligible countries
By Tender Sectors and Organization Types
By Grant Sectors and Organization Types