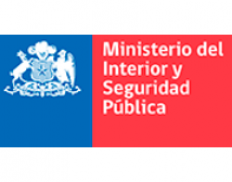 Ministry of the Interior and Public Security of Chile / Ministerio del Interior y Seguridad Publica
Details
Address:
, TEATINOS 92 PISO 2°, Santiago
E-mail(s):
interior@gov.cl
Contact person:
Subsecretaría de Desarrollo Regional
Sectors:
Public Administration, Security
Description
Functions:
Propose to the President of the Republic the rules and actions on internal policies aimed at maintaining public order, security and social peace.
Apply, through the Interior Government authorities, the rules that are issued for this purpose.
Coordinate the Ministries in charge, in their respective areas of competence, of public and citizen security.
Promote and promote regional, provincial and local development policies, evaluating their execution.
Supervise compliance with legal, regulatory and technical norms and the instructions issued for the civil administration of the State, in matters pertaining to the areas of regional development, modernization and administrative reform.
Propose to the President of the Republic the migration policies, and assume the judicial representation of the Government in all cases indicated by the laws and, in general, comply with and exercise the powers entrusted to it by the President of the Republic or the law.
Review and substantiate administrative summaries and summary investigations. Draft and sponsor waivers, complaints and requirements that the Ministry presents before the courts of justice for violations of the laws of internal security of the State, arms control, anti-terrorism and other legal provisions.
Since 2013, the Ministry of Interior and Public Security participates (along with 19 other public bodies) in the Action Plan of the National Strategy for the Prevention and Combat of Money Laundering and Terrorism Financing, which aims to identify those aspects of the National Anti-Money Laundering System and Against Terrorism Financing, which must be reinforced in the country, between 2014 and 2017. The Action Plan is coordinated by the Financial Analysis Unit and its work is divided into two groups topics that address matters related to the Prevention and Detection and Prosecution of both crimes. The Ministry of Interior and Public Security participates in both groups.
Coordinate, evaluate and control the execution of plans and programs developed in the field of prevention and control of crime, rehabilitation of violators of law and their social reintegration, in the manner established by law and within the framework of the National Policy of Interior Public Security.
Likewise, the management of administrative matters and processes that the Law Enforcement and Public Security Forces require for the fulfillment of their functions and that fall within their competence.
Circumstantial eligible countries