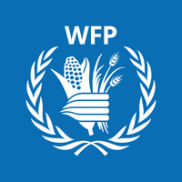 World Food Programme (HQ)
Details
Other offices:
Guinea-Bissau, Sao Tome and Principe, Fiji, Germany, Honduras, China, Guatemala, UK, Gambia, Algeria, Tajikistan, Guinea, Tunisia, Japan, El Salvador, Eswatini (Swaziland), Liberia, South Korea, Canada, Benin, Dominican Republic, Ukraine, Armenia, Burundi, Palestine / West Bank & Gaza, Central African Republic, North Korea, Timor-Leste, Indonesia, Nicaragua, Belgium, Panama, Angola, Panama, Ecuador, Burkina Faso, Niger, Peru, Namibia, Bosnia and Herzegovina, Albania, Sri Lanka, Chad, France, Jordan, Bhutan, Syria, Myanmar, Colombia, Kyrgyzstan, Djibouti, Lesotho, Barbados, Rwanda, Germany, Cote d'Ivoire, Nepal, Turkey, Nigeria, Brazil, Cameroon, South Africa, Philippines, Madagascar, Ethiopia, Iraq, Lebanon, Dem. Rep. Congo, Afghanistan, Somalia, Libya, Tanzania, Yemen, USA, Egypt, Uganda, Mozambique, India, Malawi, Haiti, Kenya, Mali, Thailand, Pakistan, Bolivia, South Sudan, Ghana, Denmark, Sudan, UAE, Sierra Leone, Zambia, Cambodia, Mauritania, Bangladesh, Zimbabwe
Address:
Via C.G.Viola 68, Parco dei Medici, 00148 - Rome
E-mail(s):
hotline@wfp.org
Contact person:
Gesine Doop Human Resources Officer
Awards in:
Africa, Latin America and the Caribbean, Asia, EU 27, Oceania, Europe Non EU 27, Northern America, Burkina Faso, Burundi, Cameroon, Central African Republic, Chad, Cote d'Ivoire, Dem. Rep. Congo, Djibouti, Ethiopia, Kenya, Lesotho, Madagascar, Mauritania, Mauritius, Mozambique, Nigeria, Sao Tome and Principe, Somalia, South Sudan, Argentina, Haiti, Honduras, Armenia, Bangladesh, China, Lebanon, Philippines, Belgium, Denmark, Finland, France, Germany, Italy, Luxembourg, Netherlands, Portugal, Romania, Spain, Sweden, UK, New Zealand, Norway, Switzerland, Ukraine, USA
Sectors:
Disaster Reduction , Gender, Humanitarian Aid & Emergency, Security
Description
The World Food Programme (WFP) is the world's largest humanitarian agency fighting hunger worldwide. On average, WFP aims to bring food assistance to more than 80 million people in 75 countries. As the United Nations frontline agency in the fight against hunger, WFP is continually responding to emergencies. We save lives by getting food to the hungry fast. But WFP also works to help prevent hunger in the future. We do this through programmes that use food as a means to build assets, spread knowledge and nurture stronger, more dynamic communities. This helps communities become more food secure. WFP has developed expertise in a range of areas including Food Security Analysis, Nutrition, Food Procurement and Logistics to ensure the best solutions for the world's hungry.
Circumstantial eligible countries