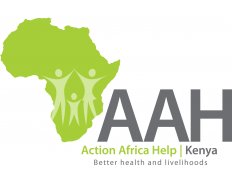 Action Africa Help-International HQ
General
Country strategy papers
•
0
Details
Address:
Fawe House, Ground floor, Chania Avenue P.O. Box 76598-00508 Nairobi, KENYA - See more at: http://actionafricahelp.org/contacts-a-location#sthash.UGiIjT2t.dpuf
E-mail(s):
kenya@actionafricahelp.org
Contact person:
Caroline Nyamai Kisia
Phone:
+254-0203007755,-6,+254-0722207726
Sectors:
Civil Society & NGOs, Education, Environment & NRM, Food Security, Health, Humanitarian Aid & Emergency, Inst. Devt. & Cap. building, Livestock (incl. animal/bird production & health), Social Development, Water & Sanitation, Youth
Description
Action Africa Help International (AAH-I) is a non-governmental organization established in 1996 in Nairobi, Kenya that supports vulnerable African communities, especially women, children, and youth, in order to improve their living standards.
AAH-I has over 30 years of experience operating in the Horn of Africa, East, and Southern Africa. It has programs in seven countries including South Sudan, Uganda, Zambia, Djibouti, Ethiopia, Somalia, and Kenya. AAH-I visualizes African communities living dignified lives in the near future and its work falls into four programmatic areas: Food & Income Security, Health Care, Education, and Disaster Risk Reduction & Management. AAH-I offers optimal solutions to meet the most pressing needs of society and its impact is already noticeable in various African regions as many farmers have been provided with the necessary technologies & inputs, people have received income from cash-for-assets initiatives, many trees have been planted and over 170 ha of woodlots established, more people have access to clean water, more students have successfully completed their studies, medical personnel have been trained and many other relative solutions have been implemented. Cross-cutting issues are not ignored either which is why AHH-I specializes in gender equality & equity, conflict sensitivity, ICT4D and good governance.
AAH-I focus areas: Health Care, Education, WASH, Food Security, Livelihoods & Agriculture, Poverty Reduction, Environmental Management & Climate Change, Humanitarian Aid, Research & Innovation, Governance, Migration, Democracy, Human Rights, Peace Building, Gender Issues, Socio-Economic Development, etc.
Circumstantial eligible countries
By Tender Sectors and Organization Types
By Grant Sectors and Organization Types