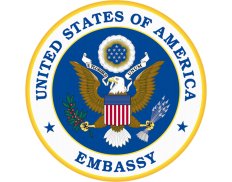 US Embassy in Colombia (American Embassy)
General
Country strategy papers
•
0
Details
Address:
Calle 24 Bis No. 48-50 Bogotá, D.C. Colombia
E-mail(s):
WebB@state.gov
Phone:
(+57) (1) 275-2000
Sectors:
Administration, Conflict, Other, Public Administration
Description
The United States Embassy in Colombia is a federal institution based in Bogota that serves as the United States' official diplomatic representation in Colombia with the goal of developing connections between the two nations and their inhabitants. Its primary duty is to provide aid to US nationals residing or located in Colombia and it is also dedicated to promoting US exports and assisting US firms operating within Colombian territory. The United States' policy supports the Colombian government's efforts to strengthen democratic institutions, promote human rights and the rule of law, foster socioeconomic development, address immediate humanitarian needs and eliminate the threats to democracy posed by drug trafficking and terrorism.
Circumstantial eligible countries