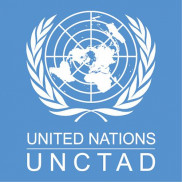 United Nations Conference on Trade and Development (HQ)
Details
Address:
Palais des Nations, 8-14, Av. de la Paix, 1211 Geneva 10
E-mail(s):
gdsinfo@unctad.org
Contact person:
Mr. Richard Kozul-Wright, Division on Globalization
Awards in:
Angola, Benin, Burkina Faso, Burundi, Cape Verde, Cote d'Ivoire, Ethiopia, Gambia, Ghana, Guinea, Guinea-Bissau, Lesotho, Liberia, Malawi, Mali, Mozambique, Niger, Nigeria, Senegal, Sierra Leone, Togo, Zimbabwe, Cambodia, India, Laos, Palestine / West Bank & Gaza, Tajikistan, Uzbekistan, UK, Switzerland
Sectors:
SME & Private Sector, Trade
Nr. of employees:
201-500
Description
UNCTAD, which is governed by its 194 member States, is the United Nations body responsible for dealing with development issues, particularly international trade – the main driver of development.
Its work can be summed up in three words: think, debate, and deliver.
Reflection on development is at the heart of UNCTAD's work. It produces often-innovative analyses that form the basis for recommendations to economic policymakers. The aim is to help them take informed decisions and promote the macroeconomic policies best suited to ending global economic inequalities and to generating people-centred sustainable development.
UNCTAD is also a forum where representatives of all countries can freely engage in dialogue and discuss ways to establish a better balance in the global economy.
In addition, UNCTAD offers direct technical assistance to developing countries and countries with economies in transition, helping them to build the capacities they need to become equitably integrated into the global economy and improve the well-being of their populations.
Circumstantial eligible countries
By Tender Sectors and Organization Types
By Grant Sectors and Organization Types