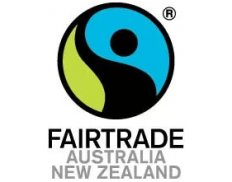 Fairtrade Australia New Zealand (Fairtrade ANZ)
Details
Address:
Suite 312, Level 3, 838 Collins Street, Docklands, VIC 3008
E-mail(s):
info@fairtrade.com.au
Contact person:
Molly Harriss Olson, CEO
Phone:
+61 (0) 3 9602 2225
Sectors:
Agriculture, Environment & NRM, Trade
Description
Fairtrade Australia & New Zealand (Fairtrade ANZ) is an independent certification body which licenses the use of the FAIRTRADE Mark on products which meet international Fairtrade standards. This independent consumer label is now recognised by 50% of Australian consumers and 76% of New Zealand consumers. Fairtrade is about better prices, decent working conditions, local sustainability, and fair terms of trade for farmers and workers in the developing world.
By requiring companies to pay sustainable prices, Fairtrade aims to address the injustices of conventional trade, which traditionally discriminates against the poorest, weakest producers. It enables them to improve their position and have more control over their lives.
Circumstantial eligible countries