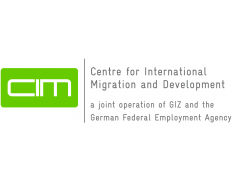 Centre for International Migration and Development (CIM)
General
Country strategy papers
•
0
Details
Address:
Dag-Hammarskjöld-Weg 1-5 65760 Eschborn
E-mail(s):
info@cimonline.de, cim@giz.de
Contact person:
Wolfgang Dick, Program Integrated Specialist
Phone:
+49 6196 79-3500, +49 (0)6196-79-3578
Sectors:
Labour Market & Employment, Migration
Description
The Center for International Migration and Development (CIM) is the competence center for worldwide labor mobility in the international cooperation of the German Federal Government. We provide specialists and executives to employers worldwide and support our partners in migration issues. CIM is jointly run by Deutsche Gesellschaft für Internationale Zusammenarbeit (GIZ) GmbH and the German Federal Employment Agency. It has been providing a combination of development and labour market policy expertise since 1980.
The Centre for International Migration and Development (CIM)
sources and places European experts – and others experts from outside Europe who have settled in Germany – in developing countries and emerging economies;
offers a network for those who have migrated to Germany and who wish to support development in their country of origin;
advises individuals and policy-makers on migration issues.
Circumstantial eligible countries