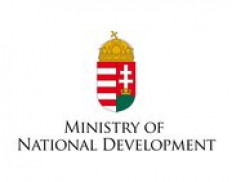 Ministry for National Development of Hungary
Details
Address:
Váci út 45 A building 6. floor Budapest
Sectors:
Social Development
Status:
Inactive
The donor is either inactive or does not exist anymore.
Description
The primary task of the Energy and Climate Policy Under Secretariat (ECPUS) of the Ministry of National Development (MND) is to examine which tools are necessary for the launch of a sustainable and competitive green economy in the near future.
ECPUS has a range of authority at national levels. The Ministry's task is to define long-term national energy and climate policies, and then to arrange tools to implement it.

MND is responsible for the Environmental and Energetics Operative Program financed from the Structural Funds, which program is also to serve the support of infrastructural investments in energy supply.
In Hungary, within ECPUS, the legislation, regulations and contracts connected to the energy sector are currently under revision. Thus it plays a dominant role in forming the institutional and legislative environment that influences the growth of renewable energy resources demand and supply revealed in the framework of the project, and their coordination.
As part of the government, MND has a strategic role in establishing regional co-operation nationally and internationally. For that reason it is important that it realise the project as a project partner, where a ministry dealing with the issue lends weight to the importance of regional energy concepts.
MND is financially and technologically equipped for participation in the project. It has an experienced project management team, a PR staff, an expansive institutional contact network, and the appropriate office infrastructure.
Given its operative character, within the project the Ministry can translate into practice the theoretical experiences it has gained, and thus ensure the most effective use of EU resources. Besides the goals phrased in the concept, it can order new financial tools from domestic and EU resources.
Circumstantial eligible countries
By Tender Sectors and Organization Types
By Grant Sectors and Organization Types