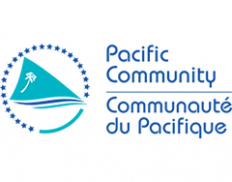 Secretariat of Pacific Community (Fiji)
Details
Address:
241 Mead Road, Suva
Contact person:
Litea Biukoto - Senior Hazards and Risk Advisor Geoscience Division
Awards in:
Oceania, New Zealand
Sectors:
Agriculture, Energy, Environment & NRM, Fisheries & Aquaculture
Description
The Pacific Community (SPC) is the principal scientific and technical organisation in the Pacific region, proudly supporting development since 1947. We are an international development organisation owned and governed by our 26 country and territory members: American Samoa, Australia, Cook Islands, Federated States of Micronesia, Fiji, France, French Polynesia, Guam, Kiribati, Marshall Islands, Nauru, New Caledonia, New Zealand, Niue, Northern Mariana Islands, Palau, Papua New Guinea, Pitcairn Islands, Samoa, Solomon Islands, Tokelau, Tonga, Tuvalu, United States of America, Vanuatu, and Wallis and Futuna.
In pursuit of sustainable development to benefit Pacific people, our unique organisation works across more than 25 sectors. SPC is renowned for its knowledge and innovation in such areas as fisheries science, public health surveillance, geoscience and conservation of plant genetic resources for food and agriculture. Much of our focus is on major cross-cutting issues, such as climate change, disaster risk management, food security, gender equality, human rights, non-communicable diseases and youth employment. Using a multi-sector approach in responding to our members' development priorities, we draw on skills and capabilities from around the region and internationally, and support the empowerment of Pacific communities and sharing of expertise and skills between countries and territories.
Circumstantial eligible countries