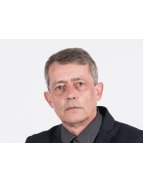 Member
Details
Languages:
Dutch, English, German
Address:
Kea Boumanstraat 116B, 1095 MA Amsterdam
About
An independent consultant and associate partner of Ecorys. He has 31 years of experience in urban mobility policy development and projects. He has been working on various EU funded studies in this field, including KITE, LINK, SUGRE and PROCEED, and was involved in the Impact Assessment for the EU Urban Mobility Action Plan in 2008. Rob Jeuring has provided consultancy services to many municipalities and private organisations on transport and mobility issues. He contributed to the impact assessment of Sustainable Urban Mobility Plans as part of the study for the EU urban mobility package 2013 and a feasibility study on a European City Pass for Low Emission Zones. He was recently involved in a consortium managing and developing the Eltis portal (2013-2015) and was responsible for the secretariat of the European Platform on Sustainable Urban Mobility Plans and organised national SUMP workshops aimed a local authorities across the EU. He coordinated a recently finished project to provide technical assistance to the European Commission's efforts to support sustainable urban mobility in third countries.