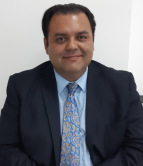 Member
Details
Languages:
English, Portuguese, Spanish
Highest Degree:
Bachelors
Years of Experience:
30 years
Sectors of experience:
Health, Humanitarian Aid & Emergency, Logistics, Administration, Programme & Resource Management, Corporate Social Responsibility, Decentralization & Local Development
Address:
Ciudad versalles, San Salvador, El Salvador
Cellphone:
+503 7080 3028
About
Hard work professional, very much oriented to Logistics chain supply. Create several projects that traduce in opportunities to generate higher company revenue and profit. Highly skill to handle every type of business scenario that relates to transportation, logistics culture, employee administration, group oriented results, Central America business markets, Textile and Commercial cargo handling, logistics system administration, Air business, Maritime business analyst, Trucking company revenue generator and e-commerce. First Goal to learn and develop my knowledge over the years to be utilize under my employee direction and create better future for myself and for the people that works with me.
Specialties: Logistics operation, chain supply business, Logistics system controls, global business perspective and knowledge, e-commerce development, trucking cargo trading, customs border knowledge, employee career development, team administration development, branding and company identity, international transportation laws and regulation for Central and Latin America.